I had the good fortune of travelling to Iceland, Spain, and Portugal at the end of 2022. Being beside the ocean, or any body of water is a humbling and meditative experience. I decided to experiment with new materials, and soon found a new process of creating artwork was emerging. 
Sketching water provides an infinite capability for practice and learning experiences. Water is the foundation for my recent works, and I try to capture the rhythm and and motion of the waves.
In these collage studies, I try to capture the basic rhythm of the landscape. I referenced charcoal sketches that I made in the park. This is a great exercise for re-imagining a sketch while focusing on the overall composition and design.
During my travels, I thought long and hard about why I enjoy drawing and painting water. As I continued to practice and play, I realized that the kinds of shapes I see in water are also present in the landscapes I was encountering. I began to look for the rhythm in the hills and trees.
The goal of these charcoal studies was to find the overall "flow" of the landscape. I wanted to find and capture the leading lines, like a wave cresting, that connects the landscape together.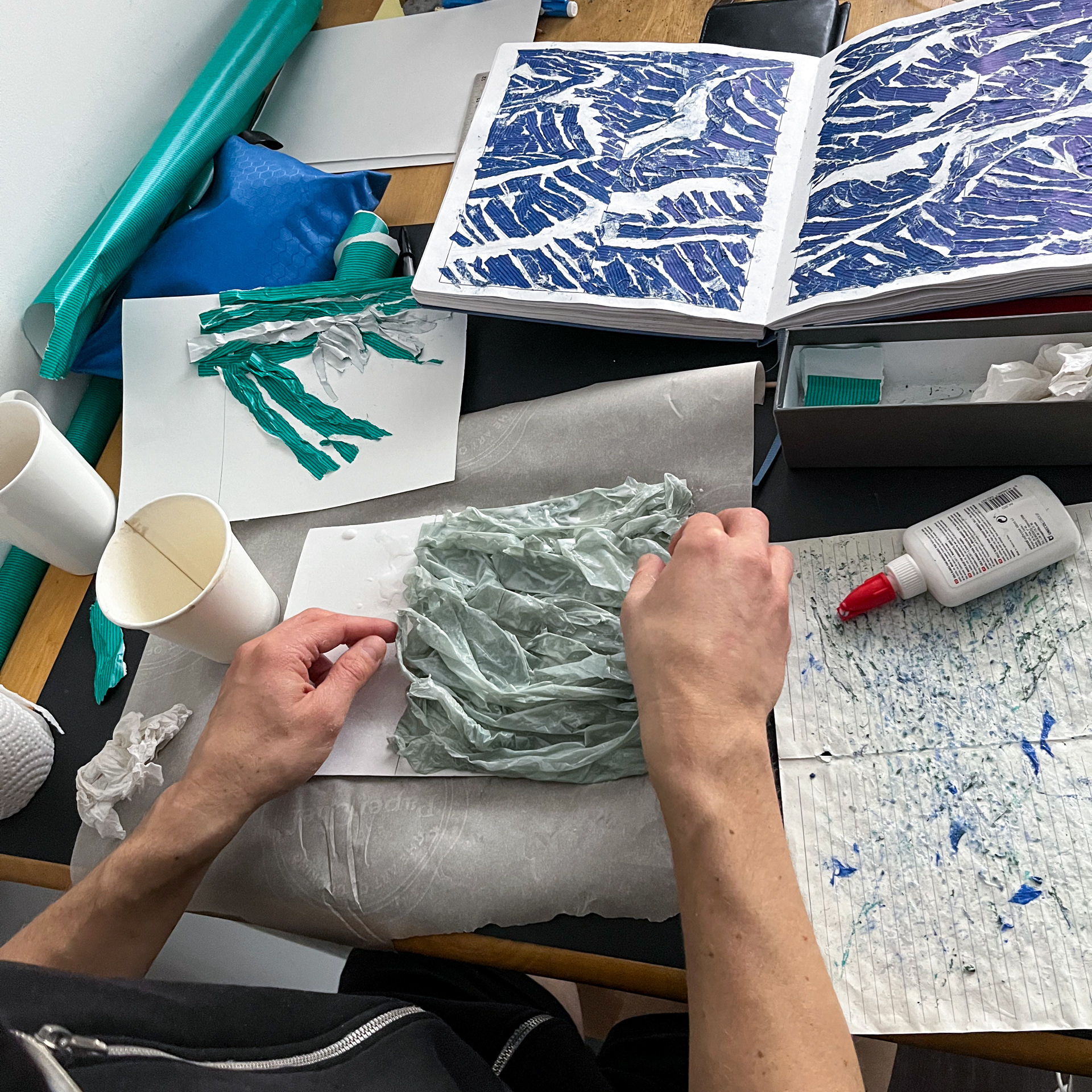 Back in Toronto, I used my sketchbooks and memories as reference material, and began to sculpt waves out of paper and cardboard. This soon evolved into a small series of sculpture-paintings. The hands-on process of these pieces was extremely satisfying. The materials could be layered again and again until the result was just-so.
I continue to iterate on the wave and landscape ideas captured on my Europe trip. Each time, the idea becomes clearer and the process becomes more focused. I try to identify a goal for each study, for example: improve the composition, or, invent more detail, or, experiment with colour.
I use the small studies as references, and re-imagine them in black and white using charcoal or ink on large paper. I enjoy the freedom of working at a larger scale. Moving my hands, and finding the big, sweeping motions in a composition, is both a challenge and reward.
The experiments continue as I practice new mediums and explore these compositions in larger (and smaller) sizes. More to come...